Watershield A

Watershield A is an interior/exterior membrane designed as a protective waterproof barrier against moisture ingress while maintaining flexibility. It is suitable for use over concrete , asbestos, bitumen and metal deck roofs, concrete and brick wall cladding, plasterboard, storage tanks, structural steel, behind retaining walls, box gutter repairs. Excellent for waterproofing walls, floors and shower cubicles in bathrooms and before laying tiles. Watershield A can be used in conjunction with poly cloth to create an even stronger barrier against water. ..

General Application Guide: (Surface must be clean and dry)

Apply 1 coat of Shieldseal W Plus with a nap roller or airless spray using a 517 tip.

When dry apply one coat of Watershield A with roller, trowel, brush or airless spray using a 525 tip. (Optional) While wet, lay in the poly cloth and push into coating.

When dry, apply one more coat of Watershield A as above.

When dry, repeat by applying the 3rd coat of Watershield A, to achieve a total dry film thickness of approx 500 microns.

If a coloured surface is required simply spray or roll 2 coats of Shieldcoat acrylic Roofbond roof paint or Ultrashield paint to finish.

Testing Performance:

Elongation: AS 4858
Submersion test : Class 3

Ensure substrate/surfaces are clean, dry and free of any dirt or mould, grease, old paintwork or any other contaminates that may effect adhesion. Watershield A is applied by roller, brush, trowel or airless spray .

If required the poly cloth is inserted into the first coating while wet.

Lay tiles and adhesives after 3-5 days once hard dry. Coverage: 45sq meters per 15 Ltrs Do not apply if temperature is below 10oC or rain is imminent.

Do not apply to swimming pools or water tanks. Caution is need for application over bitumen surfaces as oil may bleed through.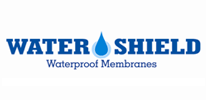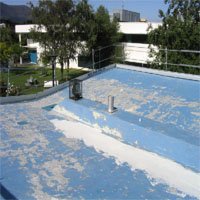 Poly cloth and Watershield A
applied to prepared concrete roof
Specifications: (dry times are considered at 25°)

Stencilshield Primer Plus:
Surface Dry: 1/2-2 hours

Top Coat: 2-4 hours

Hard Dry: 3 -5 days

Wet Film Thickness: N/A

Dry Film Thickness: N/A

Thinning: No thinning required normally.
If desired thin with water sparingly.

Clean Up: Clean up with water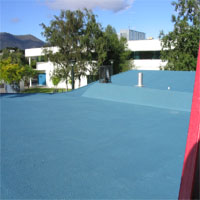 Concrete Roof Finished -Roof paint
applied over Watershield A